RAL CO2OL-PRINT: A climate protection tool that quantifies how fridge treatment services are contributing to climate protection targets on a day-to-day basis.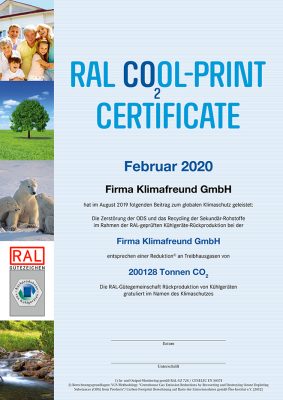 When it comes to processing waste electrical and electronic equipment (WEEE), experts agree that demanufacturing end-of-life refrigeration appliances is the most effective way to reduce atmospheric greenhouse gas emissions – provided that the demanufacturing process is transparent and complies with meaningful quality standards.
The RAL Quality Assurance Association provides the WEEE processing sector with a mature and tried-and-tested tool that uses a transparent methodology to deliver reliable quantitative data that underscores the positive contribution the fridge recycling sector is making to achieving carbon reduction targets.
The reduction in carbon emissions achieved by a treatment plant is calculated on the basis of the data acquired by systematically monitoring all of the material streams entering and exiting the demanufacturing plant. However, comprehensive monitoring of fridge demanufacturing operations demands detailed daily logging of all material streams in accordance with the specifications of the RAL Quality Assurance Scheme GZ 728 or the European standard EN 50625-2-3.
Bei der Ermittlung der CO2-The RAL CO2OL-Print methodology computes the carbon emission savings generated by the demanufacturing process by identifying and quantifying all direct and indirect emissions of climatically harmful greenhouse gases (from the consumption of carbon-based energy sources for powering the plant to identifying potential greenhouse-gas loss channels during the demanufacturing process) and then expressing these emissions in terms of carbon dioxide equivalents.
Demanufacturing plants in Austria, the Czech Republic, Finland, Germany, Greece, Luxembourg, Sweden and Switzerland are already using the RAL CO2OL Print methodology.
Climate protection in practice – transparent, accountable, tested and certified.